We all have used the native internet explorer throughout its inception. As we all know we choose a web browser and stick with it for years. It can be hard to break away from the comfort zone – especially when we become used to it – but trying a different browser can necessarily improve our experience on the web.
Here I have put Top 5 web browsers for Windows through their paces to identify the one that does the best job of ticking all those feature boxes.
Whether it's enhanced security, improved speed, or greater flexibility through customizable options and plugins, the right browser can have a huge effect on your online life.
Top 5 Web Browsers
Chrome
A browser, with a speed and Style
With Chrome, Google has built an extendable, efficient browser that deserves its place at the top of the browser rankings. Why? Well, it's cross-platform, incredibly stable, brilliantly presented to take up the minimum of screen space, and just about the nicest browser, there is to use.
Its wide range of easily obtained and installed extensions mean you can really make it your own, and there's support for parental controls and a huge range of tweaks and settings to ensure maximum efficiency. So In the list of top 5 Web Browsers, Chrome scores pretty good.
But there are downsides and potentially big ones. It's among the heaviest browsers in terms of resource use, so it's not brilliant on machines with limited RAM, and its performance doesn't quite match up to others in benchmarking terms.
Pros
• Speed
• Simplicity
• Signing In with different users
• Built-in Malware and Phishing protection
Cons
• Less customization
Review and where to download: Google Chrome
Opera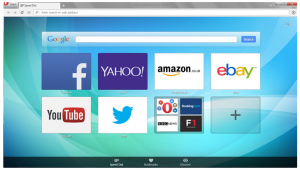 A browser, with a superb Turbo mode
for slow connections
It's sad that Opera makes up only around 1% of the browser market because it really is a quality browser. It launches fast, the UI is brilliantly clean, and it does everything its rivals can do with a couple of extras thrown in for good measure.
The key reason we have recommended having Opera installed is Opera's Turbo feature. This compresses your web traffic, routing it through Opera's servers, which makes a huge difference to browsing speed if you're stuck on rural dial-up or your broadband connection is having a moment. So In the list of top 5 Web Browsers, Opera scores well.
Pros
• Speed Browsing for Low internet connections
• Built- in Messenger, Ad-blocker, Battery Saver applications
• Free VPN
• Option for syncing browsing data
• Supported on all Platforms
Cons
• Less Customization
• Less add-ons
Review and where to download: Opera
Edge
Microsoft's new Baby for Windows 10
We are here talking about the much-anticipated Edge. Quite why Microsoft needs to be running a pair of browser products in tandem rather than making Edge backward compatible is beyond us. The company's reason, it seems, is that Edge represents the more user-friendly end of Redmond's offering while Internet Explorer scales a little better for an enterprise.
Integration with Windows 10's core gimmicks seems to be Edge's main strong point. It happily runs as a modern-skinned app on Windows 10's tablet mode and works with Cortana. It's also highly streamlined for the current web age. Doing away with insecure protocols like ActiveX and forcing you into Internet Explorer if you want to use them. We're more used to browsers failing to render newer pages than we are to being told off for visiting older corners of the web.
Pros
• Average Speed
• Simplicity with built-in unified performance profiler
• Action Center, Cortana are useful
• Integrated Share panel
Cons
• Less Customization
• None
Review and where to buy: Windows 10, including Edge
Firefox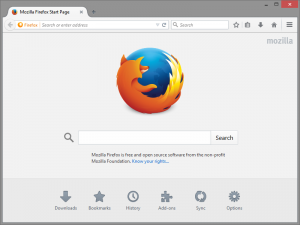 Firefox is flexible with superb add-ons.
Once the leader in overall popularity in the browser war, Firefox is now in fourth place.
It lags behind its main competitors in terms of design, keeping the search and URL boxes separate. It's regularly updated on a six-week schedule and has a lot of extensions available.
If you're looking for an alternative take on the same structure, Waterfox may fit the bill. It's built on Firefox code. It has removed many of the restrictions and integrations of the main release.
Pros
• Average Speed
• Sync with devices
• Private Browsing, Ad tracker blocking
• Built-in Malware and Phishing protection
Cons
• Less customization
• Now Available for ios platform
Review and where to download: Mozilla Firefox
Vivaldi
Ideal browser with unique docking and
Tab Stacking
Here's something a bit different. We all spend probably too much time sitting in front of our web browsers. Vivaldi wants to make that as pleasant and personal an experience as possible. Build on the web technologies like Javascript and node.js. Vivaldi can adapt its color scheme to the sites we are using.
There's a built-in note-taking system. Here we can dock websites as side panels while using the main window to do your main browsing. We love its innovative tab stacking tech. This allows us to group up tabs and move them around to avoid the crowding.So keeping the list of top 5 Web Browsers in mind, Vivaldi scores as a good contender.
Pros
• Speedy
• Simple and full customization
• Adaptive interface color
• Built-in notes, Web panel, Web page zoom
• Tab Stacks for clutter-free session
Cons
• None
Review and where to download: Vivaldi
Our Verdict:
[rwp_box id="0″]
[rwp_box_reviews id="0″]
——————————————————————————————————————–