According to statistics, around 75 million sites using WordPress.
Many users of WordPress are business owners who often ask us for plugin suggestions to build a more functional sustainable site. Having the right set of tools can help you take your business to the next level. In this article, we have included 13 must-have WordPress plugins that can help improve your site performance.
Here are Top 13 Must-Have Plugins for Business Owner
1. AKISMET – THE ANTI-SPAM PLUGIN
Spam comments can easily harm the reputation of your site, so guarding against spam is important. Akismet is a popular plugin to filter out spam comments on WordPress sites. It helps you remove spam before it goes live. Just like germs killed by anti-germs spray, before they even try to enter your house.
A lot of comments that were flagged as spam or unmarked by site administrator will be highlighted. 
[et_bloom_locked optin_id="optin_3″]
2. GOOGLE ANALYTICS – THE DATA PLUGIN
This plugin allows users to see statistics for their site, right from the WordPress admin dashboard.  Quickly view site's performance and statistics in real-time to make improvements to your site. You can keep track of traffic, average visits, duration, top performing articles, bounce rate and much more.
This plugin brings the data to moderators for easier access of information and to manage site activity. 
3. YOAST SEO – THE SEO PLUGIN
Yoast SEO plugin ensures your site gets more traffic from search engines; it helps you understand the basics of search engine optimization (SEO) and guide you to optimize your site's searchability.
It checks your pages and provides information to optimize your content to drive site traffic. You are also able to edit the Metadata and Meta description shown in search engine results.

4. GOOGLE XML SITEMAPS
This plugin automatically creates an XML sitemap that allows search engines like Bing, Yahoo, Google etc. to crawl and better index your site or blog, thus retrieve the results more efficiently.
5. CONTACT FORM 7
It's a simple and handy plugin for creating multiple contact forms on your site.
No need for CSS coding, you can customize the look and email contents of form easily. In addition, Contact Form 7 is compatible with Ajax-powered submitting, CAPTCHA, Akismet spam filtering!

6. BROKEN LINK CHECKER
Broken links can have a negative impact on visitors, they possibly never return again to your site. It's also a difficult task to check every single link yourself, use a plugin to fix them immediately.
Broken Link Checker surveys your site to detect broken links, sends notifications to the site administrator and keeps your site on track at all times.
7. BACKUP BUDDY – Database and File Backup Plugin
BackupBuddy is the most reliable and easiest way to backup, restore and migrate your WordPress sites with ease.
In the case of a hardware failure or an attack on your host's servers, a reliable backup system will restore entire site data including your valuable customer data.  You can migrate from one domain or server to another in few clicks.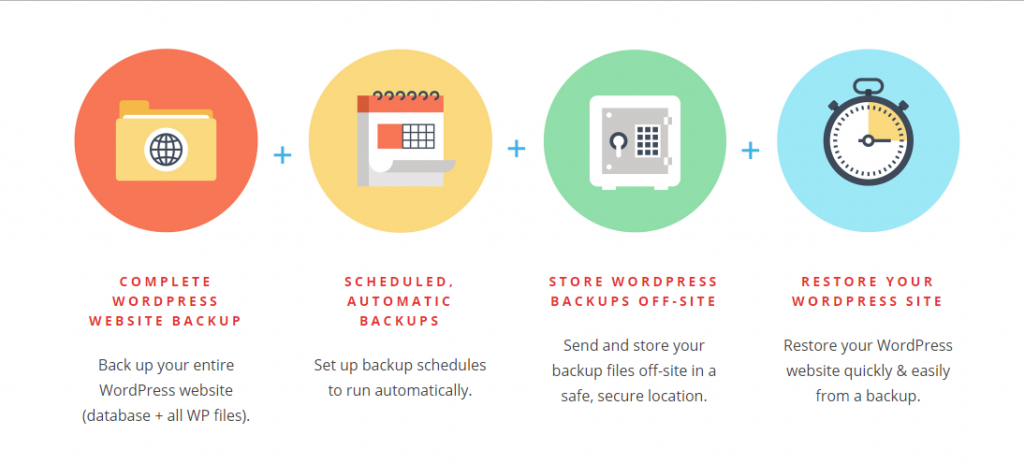 8. W3 TOTAL CACHE – Caching Plugin
W3 Total Cache plugin allows you to serve compressed and cached files to your visitors. This reduces the page loading time and website becomes faster.
Faster websites rank higher on Google, this means more visitors for your business website and more conversions.
 9. SMUSH IMAGE COMPRESSION & OPTIMIZATION 
Your website speed is affected by the high-resolution images you put on your site. This plugin automatically compresses images without losing the quality. Thus, it speeds up the page load time and provides better user experience.
10. WOOCOMMERCE
WooCommerce is the best plugin to create and run an e-commerce store with WP
It is a user-friendly and powerful tool to sell anything on the web. The many other plugins and companies that support the plugin add a lot to its popularity. 
11. SOLILOQUY
This plugin allows you to display your featured content, products, and announcements in beautiful responsive sliders on your WordPress site. 
12. EASIFY SERVER WOO COMMERCE
You can easily send invoices to clients, receive payments, and manage your finances with this cloud-based accounting software.
13.  JETPACK
There's a lot that goes into managing your WordPress site. Jetpack offers a suite of powerful features like enhanced security, traffic growth and insights tools, spam-free comments, social sharing, image optimizer, plenty of content tools, and visitor engagement features and much more.
WRAPPING UP
Avoid the most common mistake of choosing the wrong ones or installing too many plugins, which can drop in speed of the site.
These top 13 plugins serve a variety of functions and help you improve your visitor experience.
Do you use any of these plugins? What are your favorite plugins? Leave a comment.
[/et_bloom_locked]