Instagram is one of the global gifts for all marketers because it provides fantastic features to grow your brand awareness. So let's learn 8 Super- Actionable Instagram Marketing Tips that Every Business Must Know. Almost 80 percent of Instagram users utilize this opportunity for their online purchases. So it is an excellent opportunity for all marketers. Not only for marketers but it's also common for all people to have fun, entertainment, etc.
Today, most of the interaction comes visually through incredible photos, videos, and text messaging with your friends. You can see the impact of visual content on Instagram; it's better than other social networks. Instagram is a global platform, supporting 36 languages, and it automatically changes to your default language. Let us see IG (Instagram) marketing tips for everyone.
Instagram Marketing Tip #1: Track your audiences' need
Need to know about audiences' mindsets before you create great content on Instagram. Please spend some time analyzing what they like and what they search, and you only choose your quality and weighted audience. If you are using Instagram for marketing, you can build your brand in many ways; your content should make buyers' curiosity to shop your brand. Here we are discussing two ways; there are:
Instagram Insights
Listening tool
Insights tool –
Instagram provides insights that help to insights that follow and interact with your account. This tool aids in watching/calculating or counting your impressions, reach, website clicks, followers' activity, or followers' location, viewers, and saves.
Impressions – Number of views
Reach – total number of unique visit
Website clicks – Number of clicks
Followers' activity – Daily actives
Saves – How many people saved your content
You can get demographic information from Insights; it includes viewers' age, gender, location.
Listening tool – These tools show what conversation is going on Instagram, and you can get real feedback about brands from the audience. If you are trying to appeal to new users, you need to know some Instagram tricks. Give some interest to popular images, content styles that make your content famous on Instagram, and you can create excellent Instagram content when you know people's responses.
Instagram Marketing Tip #2: Connect with followers
Try to talk with followers; social media not only for sales. More possible to engage your followers, so try to engage with them. It works well because they are feeling more humanity about your industry. New visitors easily find you when your content has more likes, comments, and shares. Every social network has an algorithm similar to Instagram having an algorithm; it gives more priority to higher engagement, so your content should attract more people to get more attention. Appreciating when they share images and holding contests are the best way to get interaction on Instagram
It would be best to put in some hard work to increase your followers and keep them with you. If you try to prove you obey audiences' great feedback, you should impress through creating brand content with audiences' tastes. User-generated content is more potent to new audiences to buy your brands. Reply to every audiences' comments that help to promote your brand. And create a contest to get a response, but your contest includes a good caption and how you feel about your image. Ask them about your creative contests and use unique hashtags for less competition.
Instagram Marketing Tip #3: Use relevant hashtags
Instagram provides two types of hashtags; there are general hashtags, branded hashtags. One of the smart ways to get a quick search on the google result page. Commonly, hashtags help categorize your images and video content; these hashtag content are easy to find from the crowd. You can use up to 20 hashtags, but 1-2 hashtags are best. To avoid spam, use relevant hashtags. General hashtags are hard to notice your content. For example, "sunset", "food", etc, Using a niche related hashtag helps to increase your audience. Probably, more people will never miss out your posts if you include branded hashtags. This clearly proves that an excellent way to boost Instagram impressions is to use branded hashtags hence attaining wider brand reach.
Instagram Marketing Tip #4: Post followers' peak time
To get more engagement, post between 9 AM to 2 PM & 7 PM to 9 PM (Monday to Thursday); Avoid weekend posts and midnight posts. If you aim for B2C companies, weekend posts are approaching. To get more engagement, monitor your followers' free time, but it will not work anytime because it is a global platform. If you want to reach an international level, increase followers, and put hard work to post. Scheduling your account is the best way to organize your posts. In this way, it helps to get people's attention to get more engagement within a short time.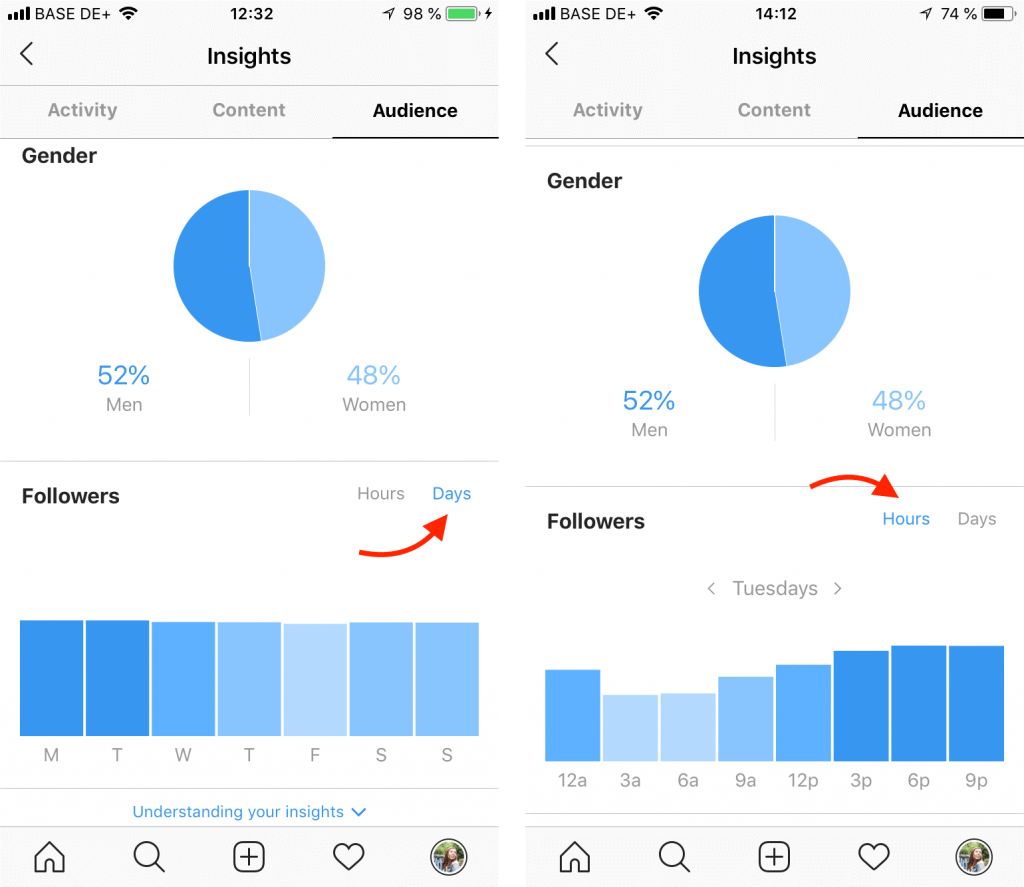 Instagram Marketing Tip #5: Post visual content
Social media platforms help visualize your visual content, and it is easy to understand your whole content to get engagement. People are more interesting when the place is filled with attraction, so use attractive colors and styles. Your visual content should start a conversation, and people share your content. Nowadays, online shopping is a trend going on; 93 percent of people make a buying decision after they see your visual content. Select a better theme for your account to attract a new audience. The brand logo is always welcome to your profile pictures. Some content types work well; there are UGC content, behind-the-scenes, influencer content, motivational images, etc, Quoted images are getting more popular on social media. Using those types of content with different styles to help get more engagement.
Instagram Marketing Tip #6: Use Call-to-Action (CTA)
To get direct engagement or reach for your website, use CTA for your post. Swipe up function gets your users to your landing page. Use your bio to add links, and when users click this link to obtain engagement for your site. Offer some promo codes to people who help people visit your page to see other brand information and follow you.
Instagram Marketing Tip #7: Instagram stories
Everyone knows that businesses use Instagram stories quicken brand reach. The downside is that stories will disappear after 24 hours from the time it is posted. Use Story stickers to express your content, and you can save your story in highlight. Highlights help the new audience to see your beginning stage. Followers can swipe up to give likes and write comments to your stories, but you only can see them. Take a screenshot and post them to show your brands' popularity. Expose your personality through these features without hiding and use this opportunity with other style updates.
Instagram Marketing Tip #8: About Influencers ( Industry VIPs)
If you want to brand success, select the right people to promote your brand; Good Influencers help get suitable followers for your brand. They make your brand visibility and credibility—one of the great ways to build trust between people and followers. Optimize your profile to work with influencers, and you can make money when you have 10k followers. If you have 10k followers, you are one of the influencers.
Conclusion
Those actionable tips are the reason why all marketers utilize this opportunity for their brand promotion. Choose the Instagram platform for your brand business to get massive success in the world. Easy to get traffic for your website through this application.